Concert Reviews
---

in Buenos Aires
Venue: Luna Park – Date: November 2nd
If you are not Latin-American you probably don't know this band. But in Argentina this is the most popular band that is closest to Power Metal (although they won't say "we play power metal", they are very melodic, with clean high voices, lots of influence from symphonic music, excellent playing, etc.). They separated some while ago, and came back last year. They put out their new album "El camino del fuego", and did a lot of touring through all America and even the United States. Now they came back to do a big gig in Buenos Aires (capital) in the Luna Park. In some way it was the presentation of "El Camino del Fuego", and it also was some kind of 15th birthday celebration.
The show was incredible. The Luna Park was full, and the excitement was big. They started with some intro on keyboards, and the first song was "Solo para Amarte" and some fireworks exploded. They played a lot from the new album, all of them except for "Cuando la luz oscurece". Something I liked about the show was that there were several calm moments when they played solos, or they played a slow ballad. Hugo Bistolfi (keyboards) played an incredible nice solo, and some melodies which were beautiful though I can't remember them, I know I really enjoyed the moment. Fernando Scarcella (drums) played a long solo, playing with the audience, he is an excellent drummer. In the middle of his solo Walter Giardino (guitars), appeared and played some kind of snare drums (the ones used in tropical music), improvising some solo, but I'm not sure if people liked that too much. Later Walter played his always incredible long solos, he mix his solos with a part of "Preludio Obsesivo", which the crowd was asking for, and it always sound amazing, though I would prefer him to play it from start to finish, he remains to be the best guitarist in Argentina in my opinion. Other instrumental part was when they played "Rondo alla Turca" (I think its spelled like that, but I can't recall who is the composer of that, mmm maybe Mozart). The melody is beautiful, and though it has been done before, a metal band playing it sounds amazing, anyway it was like a beginning for another long solo from Walter. So all these calm moments prevented one from being exhausted after the third song.
The crowd was not that bad. I felt rather comfortable, not so squeezed and smashed (which is normal in rock gigs here), and I could enjoy much more than what I thought at the beginning. There was a moment when Walter entered the stage with a cell phone, communicated with her wife in Spain (where he lives now). He asked everyone to say hi to his wife. Nice gesture. The setlist was long, and also full of classics, "El sueño de la Gitana", "Chico Callejero", "Asesinos". Adrián Barilari (vocals) announced that the show was being recorded for a DVD that they will release someday, so that the crowd should sing the next song loud, and the cameras will shoot to us, and the song was "Mujer Amante", one of the more popular songs.
The encore came, they left the stage and it was totally dark. They really take their time, but only for some surprise. When the lights turned on again they started playing "Los ojos del dragón", and behind the drums there was a gigantic inflatable dragon. It was very nice, and it moved like it was dancing, nice detail. Adrián said some jokes about it. After that the two final songs remained and they were two classics. "Guerrero del Arco Iris", and "La leyenda del Hada y el Mago". The grand finale was full of fireworks, and Walter smashed his guitar, spread some alcohol and tried to burn it, thought that didn't work much. Then he threw it to the Marshall amps at the back and he broke one and another one fell down. That makes everybody a little crazy, but its a normal rock and roll rite. Then he threw the remaining parts of the guitar to the crowd, as well as the drum sticks. The last Fireworks exploded and they finally said goodbye.
I think this show will be important for Rata Blanca 's career. It went perfectly, sound was very good, the stage looked great and the feeling as Walter said, was like celebrating that your team won a championship, for Rata Blanca is fulfilling all their wishes, though their country is in bad conditions.
---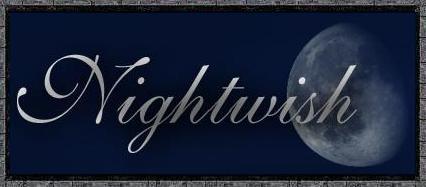 in Buenos Aires
Venue: Hangar – Date: July 18th
Here in Argentina we are in the middle of a big crisis, so when an international band comes we are really glad, although not many have the money to pay for a ticket. When the concert of Nightwish was announced, the price of the ticket was $60, the change right now is U$S1=$3.6, but for us $60 has more or less the value of U$S60, since we had 1 to 1 exchange rate before the devaluation. So $60 is a really high price, and I guess Nightwish wouldn't make much profit of this concert. So later they decided to cut the price to $30 (which is very good price for an international band, and they refunded the $30 extras which the ones who bought the ticket first had paid) and you had to take some food donated to a foundation which feeds many children. Enough of economy, to the show.
Hangar is not the best place, the scenery is like 2 ½ meters tall, so its bad for your neck if you are in the front, and the scenery is very narrow. There were 4 argentine support bands. The first was Dulce Presagio, the most similar to Nightwish, the same line up, with a girl singing I guess opera like vocals, but it couldn't be heard much due to the bad sound. They finished covering Stratovarius: "Out of the Shadows", nice version. Then Eternity, a band with a big display, some very young members, some very old, which is like a family bands. They have 2 keyboard players, which stands at the two extremes of the stage, beside these two, the guitar and bass players, which moved a lot in the same place banging their heads, then two girls which did the choirs, and in the center the singer in the front, a clone of Andre Matos, and the drummer at the back. All this many members make the sound impossible, and couldn't be heard a bit. It needs a very pro sound, to make it work. Then Charly Vega, a local Malmsteen disciple (he supported Yngwie here last year) an excellent guitar player, with a long career but pretty unknown (at least in the small media, metal has here). His band was very simple: drums, bass, singer, and his guitar. This allowed him to show the best sound of the support acts. The last one was Selidor, a traditional/power metal band, the most famous of these 4. Nice songs, it was funny that one guitar player had his pants zipper down and never realized. They played "Enter Sandman" and the crowd went crazy, and this allowed me to get to the front of the stage, right in time for NIGHTWIIIIIIIIIIIIISHHHHHH!
The intro started and the excitement was too big. "Bless The Child" started, and "End of All Hope" followed. Note that in Argentina CENTURY CHILD has not been edited yet, so not many knew the songs, so the next song "Come Cover Me" and "Kinslayer" got the crowd started. The sound was pretty good, Emppu guitar was a little low, so you had to concentrate to hear his solos (in the rhythmic sections it sounded perfectly). "Dead to the World" came next, where you can feel Marco Hietala (new bass player) singing. Its an excellent song, and Marco is a very good singer, and the chemistry with Tarja works perfectly. Then "Deep Silent Complete", very emotive with Tarja´s "ahahhhahhhaaaaaaAAA" chorus. The next song was "10th Man Down", the song is beautiful, and here instead of having the deep angry voice, Marco sang that part in a very strange style, but very cool, it was like a high and rough voice, and again, the contrast with Tarja is great. After this, the guys grabbed some cans of Quilmes, an argentine beer, I guess they are doing these trough all the tour, having a local beer in the middle of the show, so they did in Chile and Brazil, I heard. Marco took the microphone and announced that Tarja was going to have a break, and that "when you bought a ticket to this show, you also got a ticket for a CRAZY TRAIN". So they covered this Ozzy classic. The next songs were "Sacrament of Wilderness", "Slaying the Dreamer" with Marco´s aggressive singing again, "Beauty of the Beast". The latter is a long song with orchestral parts, so since I didn't hear it before, I couldn't enjoy it much. "Over the Hills and far away" was announced as the last song, and the crowd kept asking for "Wishmaster". The band went away but soon came back with "Beauty and the Beast", with Marco singing again, similar to the singing Tuomas did on the album". Then the beautiful ballad "Sleeping Sun" which is really heart-touching, and finally the long awaited "Wishmaster" which was sang almost completely by the audience, it's a beautiful song and will be Nightwish´s classic forever.
Tarja was beautiful, God she is even more beautiful when you are at 2 meters of distance, so don't believe some pictures where she doesn't look so nice. She is godly beautiful, and she sang terribly well. Emppu moves and plays great, although you couldn't hear much his guitar. Jukka´s drumming was impressive, he really has an own style which is very good, we couldn't see him much since the stage was so tall. Marco makes one not miss Sami, the previous bass player. He moves and bang his head with his extremely long hair sings good and plays well. Tuomas was always smiling, his keyboard solos were also a little low, and when he doesn't have to play he bangs his head with Tarja, Marco or Emppu.
The Setlist was almost perfect, I missed "Ever Dream" and "Wanderlust", but all the songs they played were great. The crowd, always sang "oooooo Nightwish, Nightwish…". At the end of the show someone threw a rose to Tarja, but she looked for the rose-guy in another direction from where the rose came, so the guy was like crazy…
I'll never forget this show, but I think that less bands will be encouraged to come since the price was so low. Wherever in the world you are, don't miss this tour if they come near you.
---